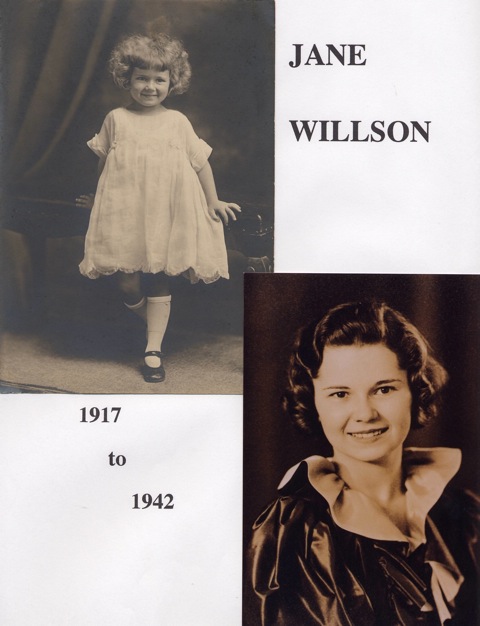 RECOLLECTIONS OF JANE WILLSON BORCHERT

With additions on the early years from her sister, Florence, as transcribed with commentary by John during several afternoons beside the pool at Lucknow cottage, Silver Sands, Jamaica, in February, 1998

.

Any errors of fact or interpretation are entirely the responsibility of the scribe, commentator, and editor.

A Part of the Jane and John Borchert Family

Memoirs and Archives

Cedarcliff on St. Croix, Scandia, Minnesota, 2000 A.D.

JANEíS RECOLLECTIONS 1917-1942

SEPARATE PATHS DESTINED FOR MANDAN

Janeís Dad, Edwin A. Willson, was born in Bozeman, Montana, in 1885. His father, George, worked in his brotherís (Edwinís uncle) store, the Willson Dry Goods Company, and later owned the Post Office News Stand in downtown Bozeman Janeís mother, Gertrude Kasper, was also born in 1885 in Glencoe, Minnesota. Her father was the McLoed county register of deeds. Their separate paths eventually converged in Mandan, North Dakota, three decades later.

Edwin Willsonís Path

Edwinís family were immigrants from the East. His mother came from northwest Missouri via Missouri River steamers to Ft. Benton, Montana, thence via the military road to Bozeman. Earlier, the Willsons came overland, via the Oregon and either the Bozeman or Mormon Tail. The sagas of the Willson Brothersí upstate New York origins and migration to Bozeman are detailed in the fine research article in Montana History magazine, which accompanies this file; and many details of Edwinís life are filed in an accompanying volume dedicated to Ed and Gertrude, which Jane assembled.

Georgeís older brother, General Lester Willson, was a substantial pioneer citizen. For a time he operated the Bozeman and Tongue River Transportation Company, a freighting company between Bozeman and the temporary end of the Northern Pacific railroad at the confluence of the Tongue and Yellowstone rivers. In connection with that business, he established the Willson store, long a landmark in downtown Bozeman. He built a fine, classical home on Willson Avenue south of downtown. His son, Fred Willson, the leading architect in southwestern Montana from the 1910s to the 1940s, lived in the same home. We visted Fredís widow at the family mansion during our first trip to Bozeman in 1953.

Georgeís wife was Florence Baker. She was the oldest daughter in the Baker-Gardner family who arrived from Missouri in the late 1870s--the journey chronicled by her mother elsewhere in these family journals. Her younger half-sisters married men named Waite, Fisher, and Gardiner, and the Baker boys became prominent Montanans in their own right. All are familiar names of Edwinís Bozeman relatives. Mr. Gardiner managed the Anaconda Mining Companyís ranch in the Deer Lodge valley.

Edwin worked through all of his later school years. In at least one of his teen-age summers he drove one of the famous horse-drawn omnibuses that conveyed tourists through Yellowstone Park. And for a number of years he worked in the livestock barns on the farm at Montana State College in Bozeman. His supervisor and mentor was Professor Shaw in animal husbandry. (Editorís Note: I believe Prof. Shaw was the son of Prof. Thomas Shaw at the Ontario Agricultural College at Guelph, who was a friend and agricultural advisor of James J. Hill. The elder Shaw was an international authority on livestock breeding in the late 19th and early 20th centuries. He lived from 1843 to 1918. Thus he was a contemporary of Hill, who lived from 1838 to 1916 and was also a Canadian..)

When Ed was 18, the younger Shaw moved to a position at Michigan State College of Agriculture in East Lansing, and Ed went with him to work there and enroll at the college. Shaw later moved up to the presidency of Michigan State. In his student years, Ed often baby-sat Shawís daughter, Sarah. Sarah eventually married her contemporary, Professor John Hannah, in 1938, when both were about age 36.. Hannah became president of Michigan State in the post-World War II years, led the promotion of the school from "College" to "University", and its accompanying entry into the Big Ten conference.)

Ed graduated from MSC in 1907 with a B.S. in animal husbandry. Either during the summer or after graduation he went briefly to Michiganís Upper Peninsula to manage an experimental and demonstation farm operated by Henry Ford. The farm might well have been related to Fordís ideal--which he was pursuing at that time--of agricultural/industrial communities which could satisfy both the economic and spiritual needs of workers and develop outlying lands linked to one another and to the industrial heart of his empire by his system of steamship lines and railroads. Ed left convinced that those sour, stony or poorly-drained cutover lands offered no hope of economic agricultural production.

From 1907 to 1909 he managed livestock herds on the Anaconda Mining Company farm near Anaconda, Montana, and later a large dairy ranch owned by Marcus Daly in the Bitter Root Valley, near Hamilton. (Editorís note: The Anaconda ranch was intended to observe the affects of sulfur emissions from the smelter on local livestock. The vegetation cover was eventually devastated for miles around and only began to recover in the 1950s or 60s. The operations became very large in the 1880s. There may well have been some local political pressure on the company by that time. Marcus Daly, a towering figure in mining history, was then president of Ananconda Copper Company and one of the companyís founders.)

From 1910 to 1913 Edwin was an agricultural agent for the Northern Pacific and Great Northern railroads, managing farms and demonstration plots in North Dakota and eastern Montana. During that time he roomed briefly, and not happily, at the Lewis and Clark Hotel in Mandan with young lawyer William "Wild Bill" Langer, who later became the notorious Non-Partisan Leagueís governor and senator from North Dakota.

During those years, his work included running an agricultural special train. In summer, the train moved from station to station along the Great Northernís "High Line" in North Dakota and Montana carrying seed, breeding livestock, and literature. Ed worked to help farmers improve their animals and practices. In winter the train was re-stocked with displays of Idaho potatoes, Washington fruit, and northern plains grains, along with lantern slides and promotional literature. Then it moved from town to town in the Ohio valley, and Ed ran lectures and exhibits showing farmers on the southern, hill-country margins of the Midwest the great possibilites that awaited them if they moved to the lands along the Great Northern in the New Northwest.

This enterprise was part of James J. Hillís dream of densely populating the "northwest empire" served by his railroads. Hill was the "empire builder", who envisioned and built the Great Northern system and by then also controlled the Northern Pacific and Burlington from his headqauarters in St. Paul. His interest in stock and crop breeding, dry farming, and irrigation were all parts of the same colonizing strategy for his railroadís territory. (Editorís Note: At the University of Minnesota library, I once came upon a small book Hill authored in which he asserted that the northern Great Plains could eventually support a population of 500 million. He based this on an analogy with the sub-humid and semi-arid plains of north China. . Hill had Canadian roots, and for advice on agriculture he often turned to his friend, Professor Thomas Shaw, at Guelph. In 1896 Hill brought him to St. Paul to give a series of lectures on the subject, which were published by Webb Publishing Company, also still in the U of M library,)

From 1913 to 1919 Edwin became chief agricultural agent for the NP, based in St. Paul. He was responsible for NP farms all along the system from Norh Dakota to Washington, and worked with the state ag colleges and extension services, and bought breeding cattle for farmers. In 1914 James J. Hill personally dispatched Ed on a mission to Scotland to buy purebred shorthorn cattle to further the development of dairying and beef production along his rail lines. On the return trip from Europe, World War I broke out. German U-boats infested the North Atlantic, and the ship was blacked out for the journey. Ed nursed his valuable cargo of cattle across the stormy sea in the dark hold and finally brought them by special train from Montreal to Hillís North Oaks Farm north of St. Paul. Hill was there to greet him and the valuable shipment. When Ed began to drive the cattle into the barn, Hill ordered him to leave them out in the snow and zero cold to "toughen them up". Ed lost the argument, for Hill was a world figure in railroading and related finance and very sure of himself. Of course, considerable loss of cattle ensued. Ed often told the story to illustrate Hillís personality and the importance of doing whatís technically right.

Gertrude Kasperís Path

Through these years, Gertrude Kasper lived her girlhood back in the county seat town of Glencoe, Minnesota. Her dad, Frank Kasper, belonged to the countyís Bohemian minority, but he was evidently a skillful politician and beloved public servant, for he seemed to be re-elected perpetually. McLeod county was predominantly German. But the Kaspers came from an area of Bohemian settlement around Silver Lake, while Gertrudeís motherís family, the Fallons, came from an Irish enclave near Hutchinson. The Bohemian immigrants were often noted by the Germans as poor farmers, but they placed a high value on education. The Germans, by chance mostly on the superior prairie land, were more prosperous farmers but most saw no need for higher education. Many of the old folks in the German majority tended to denigrate the Bohemians and Irish. Glencoe actually had--and still has!--two Catholic churches, one German and the other Irish/Bohemian. Jane and Evey must have been profoundly conscious of their status among some of their more bigoted German contemporaries. Many years after Jane and John were married, Gertrude confided--maybe in a moment of absent-mindedness--to Jane, "Donít ever let John know that your family were Bohemian".

Frank Kasper believed in education. In 1899 Gertrudeís older sister, Evelyn, left home to enroll at the University of Minnesota in Minneapolis, when coeds were indeed a rarity. Evey graduated with high honors in the class of 1903 (she had classes with Maria Sanford, who became the first dean of women); and that fall Gertrude enrolled at St. Cloud State Normal School. Gert completed her two-year teaching preparation there in 1905.

For six years Evey taught in public schools at North Branch, Minnesota, Hope, North Dakota, and Buffalo, Minnesota. At home one summer she met Dr. Bernard Nickerson, just graduated from the University of Minnesota medical school, and beginning practice in nearby Hutchinson--largest trade center in McLeod county. They were married in 1909 and lived at Hutchinson for a time. But "Doctor"--as she always referred to him or addresed him--soon moved to open a practice in the booming frontier town of Mandan, North Dakota. It was a railroad division point, where the Northern Pacific bridged the wide Missouri and sent branch lines to the Knife and Cannonball valleys, in the high plains "slope" country. For many years, in addition to his local practice, Dr. Nickerson was the NP physician for the Mandan divisions.

The choice of Mandan might well have stemmed from Eveyís dad, Frank Kasperís, knowledge of that part of North Dakota through his investment in farm mortgages. Notably, at about this time, Gert and Eveyís brother, George Kasper, settled in Mott, N.D., then a frontier county seat on the slope, to open a furniture and undertaking business. Conversely, of course, the Kasper interest in the slope could have started through Gertrudeís acquaintance with Ed in 1910 or 1911.

Meanwhile, after finishing her training at St. Cloud in 1905, Gertrude taught school at Rush City, Minnesota, then at Duluth and in the mining frontier towns of Gilbert, on the Minnesota Iron range, and Lead, the famous gold camp of George Hearstís Homestake Mine, in the Black Hills of South Dakota. Hearst was a friend of Edwinís employer, Anancondaís Marcus Daly, from their early days together in California goldfields and the Comstock Lode at Virginia City, Nevada.

Some time around 1910, Gertrude found a teaching job in Mandan and joined Evey and Doctor. It was then and there that the paths of Gertrude and Edwin finally converged, three decades after they first appeared on the map at Bozeman and Glencoe. She was a teacher, and he was a railroad ag agent based at Mandan. They must have courted at a distance for a few years. Then, in 1916, they were married and made their first home in an apartment at 990 Grand Avenue in St. Paul. As chief agricultural agent for the NP, Ed must have been able to spend more time at headqauarters. (Meanwhile, also in 1916, Ernest Borchert and Maude Gorndt were married and settled in an apartment on Ashland Avenue in Chicago, and would bring their first son, John, into the world there)

ENTER JANE

In 1917, Jane was born; and now the story can actually begin.

With American entry into World War I, Edís job with the GN was either suspended or drastically changed. In fact, it must have been changing in any case, for the frontier had closed on the northern plains; the Pacific Northwest was maturing; Hill was growing old, and his colonizing notions probably no longer were so influential in the railroadís policies. So early in 1919 Ed, Gert, and Jane moved to Fargo, where Edwin became agricultural extension agent for Cass County, North Dakota.

The Early Fargo Years

This was an important move. Cass county was the most productive agricultural county in North Dakota, one of the most productive in the United States. It was the historic hearth of "bonanza" wheat farming on the rich, flat lands of the Red River Valley of the North. Wealthy eastern families--investors in the building of the Northern Pacific railroad, and some close friends--had developed these farms with mixed motives that ranged from hobby to adventure to investment to experiment. Even though some were only seasonal residents, there was a visible elite of owners and managers, resulting strong support for the cultural development of Fargo and the state agricultural college. At the same time, of course, the county agent position gave Edwin a formal tie with the college. As a result, Ed and Gertrude, though their income was modest, developed personal contacts with faculty and farm-community leaders. Edwinís abilities and work ethic, and Gertís cultivated social skills, must have soon created an interesting social environment for their family while also advancing Ed rather rapidly upward in the college.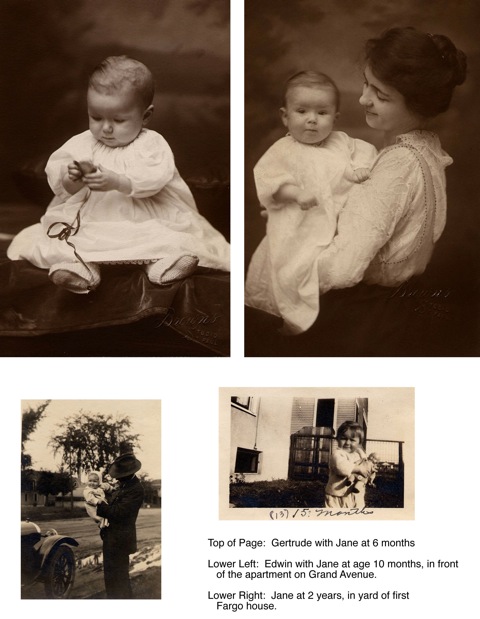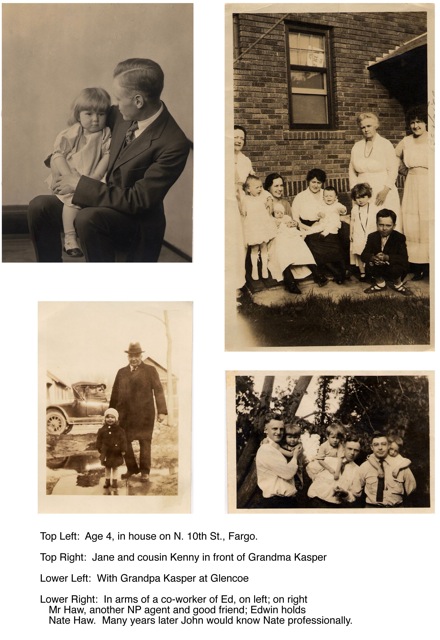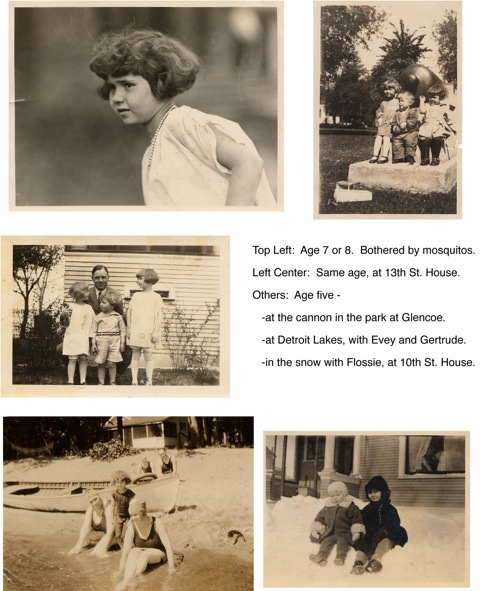 The Willsonsí first home was a rented house on Fargoís south side, just south of Riverside park, about a block from the Red River. Janeís earliest memories are playing along the swift, muddy torrent when the ice went out in the spring. Happily she escaped disaster. A year later, in 1920, the family moved to 10th Avenue, on the north side to be near the college. Flossie was born there. In 1922 Frank was born, and they moved again, this time to the house they bought at 1026 North 13th Street. They paid with a loan from "Grandpa" Frank Kasper. But the timing was right; for Edwin now had an appointment in the Experiment Station and would soon become state supervisor of extension agents. Jane was old enough to remember Sunday drives with Edwin in the family car to visit bonanza farms. (The parallel with our own family at that stage is striking--borrowing from Janeís parents to help finance our first house; Sunday family drives that doubled as academic field work.)

The 13th street house was home to the family from the time Jane was five years old until they moved to Bismarck when she was nearly seventeen. The floor plan is shown in the accompanying

sketch. It was somewhat above-average, for urban dwellings of that age, in both floor space and modern improvements, including the semi-attached garage.

When the upstairs was like a furnace, the porch was a sleeping area for Jane, Flossie, and Frank, sometimes for the whole family. On delivery days, the "ice card" was posted on the outside of the porch to let the ice man know what size cake of ice to carry from his truck to the ice box in the alcove next to the rear entry.

Inside the front door, the alcove on the north had a big box for overshoes and a rod for coats--essentials for the North Dakota winter. A colonaded entrance to the living room opened from the other side of the entry hall. Gert and Ed usually entertained their many bridge guests in the living room. And the Victrola was in the living room. Jane remembers cranking it so she could dance to a record of "Valencia". Infrequent dinner parties were served in the dining room, through the pantry from the kitchen.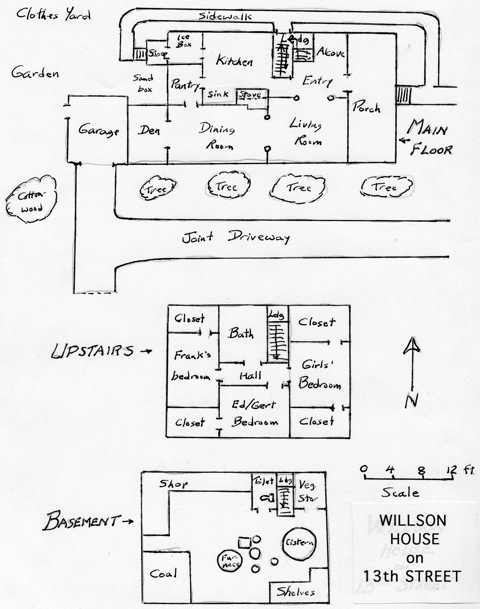 The front porch was an important space. It served as a living room in summer--somewhat protected from view from the street by a solid railing and screens. On the hottest summer nights,
Gertrude ran the kitchen. It was good-sized. The family ate most meals at a large table under the window on the north wall. But the work area was small and dark. Jane recalls that she and Flossie did dishes, dusted, and cleaned. But the girls generally had no hand in the cooking. The den replaced the porch as a reading room in cold weather, and the piano was in the den. Jane practiced there during the five years she took piano lessons, while her mother would occasionally call from the kitchen with corrections or approval. The piano lessons ended when she broke her wrist while she was in sixth grade.
Jane recalls that Edwin did the laundry on Saturday mornings at the tubs in the basement, hung the clothes on lines in the back yard in warm weather, or on lines in the basement when it was cold or wet. The garden was also Edís territory, after work on summer evenings. So was the garage on Saturdays after doing the laundry. He always did his own oil changing and lubrication, and liked to putter with his car. (Editorís note: When I met Jane, with all the pressure of running the state welfare board, Ed still did the general maintenance on his Oldsmobile. Frank was involved, too.)
Jane started first grade in the fall of 1923 at Roosevelt elementary school, but transferred for at least one year to parochial school--an episode that did little to endear the Church to her. Three-quarters of a century later she vividly recalls knuckle-rappings from the nuns, the time Father Eagan slapped her for stepping out of line, and Gertrudeís dressing down Father for such treatment of her shy little girl. On the lighter side, there was the time Jane and Flos were playing with dolls and a scissors in the basement and accidentally cut up one of Gertrudeís dresses. And the time "the root beer blew up". Nevertheless, it was serious to discover, when she transfered to third grade in southern California, that she had considerable deficiency to make up because, she says, of her inadequate background in the parochial school.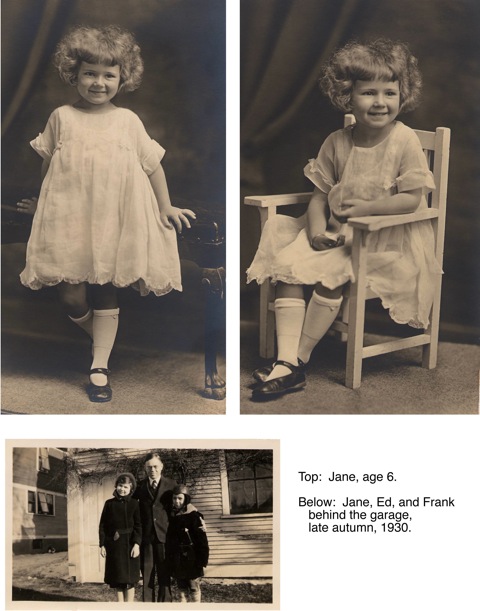 The California and Madison Interludes
The California interlude lasted from the fall of 1925 through the spring of 1926. Ed was completing his M.S. degree in Agricultural Economics, organizing a new research program in rural sociology, and inaugurating his own big field research project. The family might also have been short of money as a result of the previous yearís intensive, unpaid work on his M.S. degree and thesis. In any case, Ed lived in one room in the house while they rented the rest of it to pare expenses. (Editorís note: Probably not unlike the situation that Jane and John would have had if he had taken a teaching job offered at the University of Cincinnati when he finished the M.A. degree. He would then have had to find time and resources to finish the PhD while he was on the job and starting a family.)
Gertrude and the three children made the trip to California by train. Janeís strongest memory of the trip is the table set up in their Pullman section during the day so they could play games. They lived the year with Edís father, George Willson, in Alhambra, then a fast-growing suburb-farm trade center-retirement colony in the fields and citrus groves east of Los Angeles. George owned a stationery store there, and somehow the families managed to double up and make it through the year. Ed drove out in the family car in the spring, and they returned to Fargo to reclaim the house on 13th Street.
In the fall, Gertrude must have ruled out parochial school, for Flossie enrolled in first grade at Roosevelt, and Jane must have gone back to a lay education, too. But the shifting among schools had not ended. In the fall of 1928, Jane transferred to sixth grade in Madison, Wisconsin. Edwin was now doing course work for the Ph.D. in the new field of rural sociology. This time he had financial support for the year; and the family rented a house in a pleasant neighborhood.
The Madison interlude was part of a larger pattern. In 1923-27, Ed was principal researcher for an unusually comprehensive study of social conditions and community organization in the western half of North Dakota. It was published as Experiment Station Bulletin No. 214, in 1928. The book ran to more than 100 pages, with text and many tables, graphs, maps, and photographs. Clearly Ed did a prodigious amount of work, along with extensive field travel and interviewing. I think the project was a follow-up to his M.S. thesis in agricultural economics. He must have had considerable support, by the standards of drought-plagued North Dakota at that time.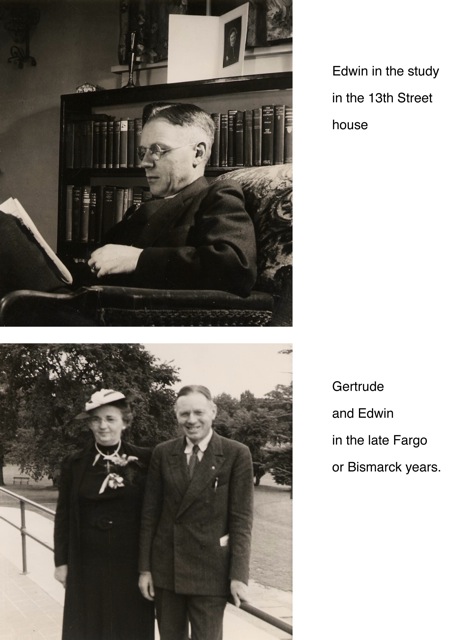 The preface to the book is unusual. Besides the normal "boiler plate", there is an essay by the director of the experiment station. It compliments Ed, praises the work, calls it an important and essential new kind of contribution to the stationís study of the stateís farming system, and quite clearly tells the traditional faculty of the college that they are going to have to include this kind of social research as a legitimate part of the enterprise. The Ag Economics department head was listed as co-author. He became dean of agriculture shortly thereafter. Both he and the president and their wives were personal friends and bridge companions of Ed and Gertrude.
This piece of research and its publication obviously were some kind of a landmark. Clearly, the administration had decided that such work was to be a permanent fixture of the program, and Ed was one to do it. His background in animal husbandry and farming made him credible to the dominant old-line ag faculty. At the same time, the publication showed the collegeís concern with the social problems that had been festering since the over-settlement of farms and small towns in the 1910s and 20s, the 1920s collapse of farm prices, and the disastrous drought of the 1930s. It also positioned Ed in the state as an expert on those problems.
The study was no doubt a factor in the prestigious, New York-based Social Science Resarch Council making a $2000 grant (large for that time) to Edwin for a year to take coursework for the doctorate in the new field of rural sociology, with the fieldís founder, Professor John Kolb, at the University of Wisconsin. (Editorís note: By chance, 35 years later John served a term as a director of the Social Science Research Council. His highly theoretical, psychology-oriented sociologist friends on the board then would have had little or no appeciation for the kind of descriptive work Ed was doing in his day.)
So the family leased the 13th Street house to a sorority for the year and packed up for Madison. With Ed having generous financial support, they were able to rent a house in the wooded, hilly Vilas Park neighborhood, southwest of the campus.
The Madison year was a good one. Jane and Florence prospered in school. The family made life-long, dear friends in the Kolbs and the Mortensons. Professor and Mrs. Kolb took a deep personal interest in his graduate students, and for obvious reasons, Ed and Gert were special even within that group. Bill Mortenson was younger than Kolb, a contemporary of Ed, a live wire on the extension faculty in agricultural economics, and later author of a widely-adopted high school economics text. Billís wife, Luella, was a vigorous member of the home economics faculty who went on to develop a state-wide following for many years in public radio.
The only misfortune that Jane recalls is the time she broke her wrist while roller skating. She was going down one of the steep hills on the glacial moraine land, could not stop, kept going faster and faster until she flew to the ground and an instant halt. She realized too late there are such things as hills. She had never seen more than the slightest suggestion of a hill in her years growing up in Fargo.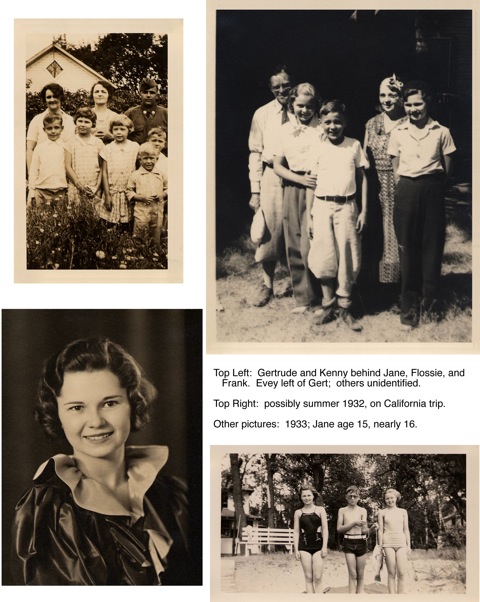 Junior High and Fargo High Days
At the end of the year, the family returned to Fargo and the house on 13th Street. Jane entered public junior high school. Ed was now ABD (college slang for a Ph.D. with all but the dissertation. And that he would remain. We think Bulletin No. 214 exhausted his obviously thin patience for writing, but also new opportunities interrupted his career at the Agriculture College.
Jane entered junior high school in the fall of 1929, and we have few coherent notes for the years from then to the summer of 1934. Jane says thatís because she didnít do anything.
Yet Iíve heard her talk about many group activities in those adolescent years. Sneaking into the college football games through a hole in the fence. Pulling the trolley off the ovehead wire to stall the streetcar that ran downtown on 13th Street. Watching road shows from the highest, most remote, cheapest balcony seats at the Fargo theater. Parties at her house and the homes of her girl friends, put on by Gertrude and the other respective mothers to demonstrate to the girls how to entertain properly. The beautiful 15-year-old Jane on the cover of this memoir is wearing a striking dress that she designed and made. The editor asked her when she would wear it. The answer: "dances, parties, dates". There was ice skating at Island Park. Baby sitting Flossie and Frank, including one frightening time when Gert and Ed got stuck in the mud on their way back from a party at a house in the country, could not get to a phone, and did not appear until the next day. (Red River Valley roads were unsurfaced in those days, and the gumbo was deep and slippery in wet weather.)
Summers at rental cottages at Detroit Lakes, Minnesota. Jane photographed in her nightgown holding a string of 30 fish at Long Lake. Another time at Long Lake when the cat gave birth to five kittens, then fled to Fargo and left Jane and Flossie to care for the kittens, only to find her way back, bedraggled, weeks later. Swimming contests and filling Flossieís pockets with live clams at Pelican Lake. A leaky roof and kettles and pots all over the place to avoid a flood in a cottage on Big Detroit. The call of the loon at Campfire Girlsí camp on Lake Trowbridge, in the rugged, lake studded countryside near Vergas, Minnesota.
There were also the pilgrimages to visit Gertrudeís family in Glencoe. Those trips were ritual for all the years in Fargo. They were always by car--mostly on gravel roads in the 20s, partly on newly-paved sections of U.S. 10 in the 30s. Besides the regular summer trips, there were some at the Christmas holidays. The highlights of Janeís memories are the wood and coal stoves in the kitchen and the living room, and her grandfather getting up to stoke them at 5:00 a.m., so the house would be warm when all the kids got up. The cousins and aunts and uncles--thereís one family reunion picture in our family history files. Playing on the cannon and the monument and the bandstand in the city park across the street from the Kasper homestead. Grandpaís story-telling. The replacement of the privy and washpans with indoor plumbing.
There was a "special" in the summer of 1932, when the family managed a motor trip to California. Memories?? Cabin courts, with bare-boards shelter and little more --Gertrude carried the bedding in a box Ed had made to fit on the running board of their touring car.
A few swimming pools en route, and stubborn cases of athleteís foot. Heat--116 degrees, aggravated by constant strings of passing oil trucks and choking dust on the 1930s two-lane gravel highway across the Mojave. Relatives--Edís brother, Walter was Westinghouse representative at Phoenix, and had heavenly air conditioning in his home--to demonstrate that new technology that would revolutionize the American subtropics; brothers Glen, ĎPinky", and Joe in the Los Angeles area; distant relative in Beverly Hills who incredibly put a $5 bill in the church collection plate; distant cousin, there in Beverly Hills, Janeís age, the two of them watching from an upstairs window in a friendís home as neighboring movie star James Cagney languished in his pool. Home via Bozeman
--stayed at Willson mansion, Bozeman Hot Springs pool, brief family stay at Anaconda ranch.
The Move to Bismarck
In 1933 Ed was summoned to Bismarck. He was asked to run the
Federal Emergency Relief Administration (FERA) program in North Dakota. There was a double emergency. On the one hand, more than half the farmers in the state needed immediate help, not only financial but on a wide front. In addition, the Langer administration had developed a reputation for corruption and ineptitude that was well-known in Washington, and the FERA had to get the receiving agency cleaned up before they would continue to release federal funds. A federal judge at Bismarck became interim chairman of the state welfare board, with either a charge or a personal commitment, or both, to bring order out of the chaos.
Edwin did an efficient job with the FERA and was then nominated by the judge and his cohorts to become executive secretary of the Board. That was the key position in managing the federal emergency funds flowing into the state while bypassing Langer and his cronies. In one sense, things had come full cycle: Ed was back in the same den with his despised former room-mate, Langer. But it was a much bigger job than that. It required someone with technical qualification, impeccable honesty, and a lot of political courage. He stood his ground in the stateís chaotic politics, got to know famed New Dealer Harry Hopkins and even Eleanor Roosevelt, in Washingon. Janeís loose-leaf binder on Edwin contains numerous newspaper clippings from that period.
The year must have been tough on the family. Ed was under strain. And he was living in a room at Bismarck, while Gert managed the kids and house on 13th Street. In the early spring Gert drove to Bismarck with the children at the time of the state high school basketball tournament. In those days, U.S. 10 across North Dakota was still a gravel road. Gert lost control of the car in loose gravel, and a serious accident resulted. She and Frank were in the hospital for some weeks.
The family moved to Bismarck in the summer of 1934, rented a house at 1002 8th street. It was another hot, dry summer, as the great drought of the Ď30s continued. Worsened by Langerís last-ditch agitation of a "welfare clientsí strike" in Bismarck, and the lieutenant governorís calling out the militia to guard the Willson home from threatening "strikers". Jane, Flossie, and Frank moved with Gertrude to Eveyís house in Mandan to avoide possible danger. But the crisis passed. Jane transferred to Bismarck High School and was object of great interest as the "new girl" from out of town. The boys would gather in front of the house to impress her and Flossie, while Gertrude fed them fresh-baked cookies.
The year at Bismarck High was enjoyable and successful. Jane recalls a trip with a music group (her secret singing ability?) to the state university at Grand Forks--a visit one night to a supper club there to see and hear vocalist Peggy Lee, then the struggling daughter of a locomotive engineer from Jamestown, later with a three-decade career as a star big-band vocalist on the national networks and Hollywood scene. A date to go dancing on the river boat that still operated from Bismarckís city park on the Missouri.
(Editorís note: A quarter century later, our family were visiting Aunt Evey in Mandan. John was doing field work in connection with the Upper Midwest Study. He told Jane he had an appointment at the capitol in Bismarck the next morning to meet Larry Snyder, the state economic development director. Jane said, "I had a date with a fellow with a name like that, when I was in high school--to go dancing on the river boat." Next morning at the appropriate office in the capitol, John met Larry to talk about urban planning efforts in the state. Larry was a clean-cut, personable fellow, who had just returned to Bismarck to take up this position. Did he remember a Jane Willson from Bismarck High days? As youíd guess, he did.)
Early in 1935 the family moved to the house they would occupy at 831 6th Street, a few blocks south of the capitol, for the next six years. And during the spring, Jane was a photogenic "queen" (in the dress she was wearing when we met six years later) representing Fargo on a float in a downtown Bismarck parade celebrating some special occasion.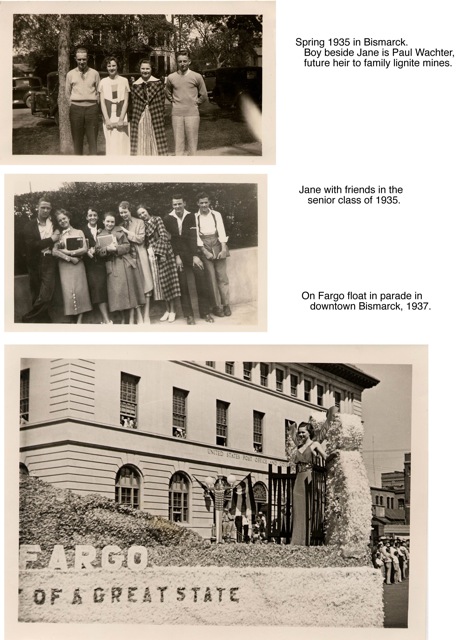 Back to Fargo and the "AC"
After the usual summer month at Detroit Lakes in 1935, Jane returned to Fargo in the fall to enroll as a freshman at North Dakota State College of Agriculture (known to North Dakotans simply as "the AC", to distinguish it from "the U" at Grand Forks). She moved into Ceres Hall, the ancient womensí dormitory, joined the Kappa Kappa Gamma sorority, and briefly renewed friendship with her admirer from Fargo High days, John Carlyle. In fact, John left his fraternity pin with her before he transferred to the University of Washington.
The summer of 1936 was the most oppressively hot and dusty of the great drought of the 1930s. There was no air conditioning in those days, and Jane recalls many people sleeping outside, in the slightly more tolerable night air, on the capitol grounds. The Willson family rented a cabin on Lake Sally for most of the summer, and it was paradise. Edís responsibilities were very great then, and he could only get away from Bismarck for week-end train trips to the lake. In less than a decade, he handled more than $40 million of federal relief funds. Meanwhile, mostly, Jane recalls fishing and swimming.
Back to Fargo and college in the fall of 1936. That was the toughest year of drought and depression on the northern plains. In an economy move many considered political grandstanding, Governor Langer had issued an edict cutting all salaries in the stateís colleges and university to a maximum of $1900 per year--deans, presidents, everyone. That was the last straw for many good but already underpaid faculty. There was an exodus to other, usually bigger, schools coast to coast, and North Dakota State lost not only much of its best talent but also its North Central accreditation
.
Jane spent the summer of 1937 "just sewing"--plus golf and tennis.. (Donít be deceived by the "just". In fact, she made much of her own clothing--designed it, also--through high school and college. When she was a little girl, she could spend hours cutting out doll figures and designing clothing for them. She prospered in sewing and cooking classes in junior high school, and design classes in college.)
On to Michigan State
Meanwhile , it was decided during that summer that the girls should get out of North Dakota State. The obvious alternative to Ed was his alma mater, Michigan State. Jane would transfer as a junior, Flos would enter as a freshman. Off they went on the fine North Coast Limited to St. Paul and Chicago. Then they got a shock as they boarded typical eastern coaches, on the Grand Trunk, and headed for Lansing. I had the same sort of shock in reverse the first time I rode the clean, spacious North Coast Limited to the west. I had grown up with the Pennsylvania, which railroad travelers used to say, "In a hundred years never missed a dividend or swept out a coach".
The girls moved into the Kappa Kappa Gamma sorority house. Jane continued her major in home economics. She recalls suffering long hours on her feet but interesting work in a practicum/internship at the Student Union salad bar. Her partner was a student in hotel management who got a job at New Yorkís Waldorf Astoria when he graduated. Jane went to teach high school at North Branch, Michigan, when she graduated. But she felt she was "just as good as he was".
Some time in the MSC years, Ed and Gertrude were invited to President and Mrs. Shawís home during a visit to the campus to see Jane and Florence. The girls went along and met their dadís former mentor and "baby" Sarah, who was by that time about 35 years old. In fact, in 1938 Sarah married ag professor John Hannah, whose career was rising toward the college presidency.
Other recollections from Michigan State. The beautiful landscaping and careful maintenance of the campus. Traffic jams on the highway to Ann Arbor on football days. Dates with cool guys, at least one or two of whom drove sports cars and sailed on the Detroit river. The sister home ec majors who coveted jobs at the famous Hudsonís store in Detroit. The sorority sisters who played cards and cut classes all quarter then crammed madly at exam times, while Jane paid attention in class, kept up with daily assignments, and enjoyed dates and relaxation during exam times. The sorority sisters who smoked, while Jane could not imagine so squandering the scarce dollars Gert and Ed were sacrificing to keep her in college. The exciting water-borne homecoming parades through the campus on the Cedar River--Jane in charge of the Kappa float. Home Management House, where she encountered ridiculous, petty standards for grading bed-making, and flunked "eggs". Friends and activities in the Kappa house, and finally, graduation in the spring of 1939.
Into the Job Market
Summer of 1939 was the time to find a job. Applications to high schools in Escanaba and Whitehall (Michigan), Fargo, Ada (Minnesota), hitch-hiked from Bismarck to Watford City, North Dakota, with a member of the Watford City school board. Tough going for several reasons--the drought, the depression, and the large number of women chasing a small number of jobs that were open to them. (It was assumed that families should be supported by men, and men had first crack at available jobs in most fields.} In the last weeks of summer a job opened at North Branch, a small town east of Flint in the "thumb" of Michigan. Jane got the appointment. The family drove her to Duluth, where she boarded the S.S. North American, a grand passenger liner of the golden era on the Geat Lakes, which still plied scheduled runs between the head of the lakes, Detroit, Cleveland, and Buffalo.
After a glorious trip on the luxury ship, she took the jerkwater train into the boondocks at North Branch. It was a poor trade center for a very modest general farming and sugar beet hinterland--low to moderate income farmers and hill-billy immigrants from the South who had moved out from Flint when they became unemployed during the depression.
Jane says she has no memories of the place or the year. But there are bits and pieces. Flossie remembers coming over from East Lansing (where she was now in her junior year) to visit on one week-end. But Flossie has no memory of the place, either. Social contacts were apparently few and generally dull. Some time during the year, Jane sent back John Carlyleís fraternity pin. A mutual friend in Bismarck later told Jane that he had confided that he "could never marry a catholic". (Editorís note: What a break for John B. Divine intevention?) She once spoke of a date she had with someone to go to a dance featuring Benny Goodmanís big band at Pontiac. But few decent, educated single guys must have come through there. And she has sometimes spoken of the pitiful homes she saw when she visited some of her students to supervise their projects--dirt floors, no screens to keep out the clouds of flies, memories of a good student who came, starched and pretty, from a basement hovel. She resigned her job at the end of the year, determined to find something closer to home and closer to her culture.
Back home in the spring of 1940, Jane put out applications for jobs open around North Dakota. Miss Finlayson, the state supervisor of home economics and demonstration agents, who was an old friend of the Willson family, helped search out openings. And Gertrude and Jane drove around the state for interviews. Success at Carrington, a county seat town of a couple of thousand, trade center for a county that overlapped rather rough, stony prairie pothole country in the west but a larger portion of fertile James River plain in the east. A much more sophisticated place than North Branch. And a little more social life. A compatible group of teachers, notwithstanding the Norwegianness of most of them. An FBI agent and a Standard Oil sales rep who came through occasionally and took her to dinner. The local pharmacist, Mayo Meadows, who had a small, private bar in the basement of his store known only to his closest friends. (Carrington must have stiil been "dry".) That group included Jane and three other female teachers/room-mates, who met there surreptitiously on occasional week-end evenings for snacks and alcoholic beverages. Yet, Jane claims that by the end of that year--after two yearsí exposure to the life of a school teacher, she had resigned to life as an old maid. (A highly unlikely future, no matter what might happen.)
Two Blind Dates that Changed the World
So resigned, she returned to Bismarck for a summer of sewing and rest. Things were going along in that pattern until Saturday, July 19. That was the night of the monthly dance of the Border Petroleum Club, to be held at the Bismarck Country Club. The BPC was a very informal organization of the "oil men" who were based in Bismarck and northwestern North Dakota that summer. It was the first year of exploration for oil in the Williston Basin. Several companies were drilling the first exploratory wells near Williston, and a seismograph party and a small flock of geologists and land agents were working out of Bismarck. The seismograph party worked for the Magnolia Petroleum Company of Dallas, which was the exploration and production division of the Socony Vacuum Oil Company--corporate predecessor of Mobil, whose trade mark was the famous flying red horse.
One of the ten party members was an electrical engineering graduate a couple of years out of Purdue, Joe Bulevant. It happened that Joeís landlord worked for Ed Willson, at the state welfare board. The landlord arranged a blind date for Joe with his bossís daughter, Jane. Another member of the party was a geology graduate just out of DePauw University, John Borchert. One of Johnís fellow roomers at Mrs. Gilbertís rooming house, on Avenue A, was Stuart Bjorklund--a geology M.A. a couple of years out of the University of North Dakota and a fellow member of the Magnolia seismograph party. Stuart was not interested in going to the dance, but he offered to arrange a blind date for John with Alice Tillotson, a Bismarck girl whom he knew indirectly from his NDSU days.
So Jane arrived at the dance with Joe, and John arrived with Alice. Jane and John were introduced to each other, had a lot of conversation through the evening and exchanged quite a few dances. John could not notice anyone other than the very pretty, dark haired, dark-eyed, petite girl in the bright red dress adorned with a gold KKG key. When Jane got home, she told Gertrude she had met the "nicest fellow for Flossie".
Next afternoon, Sunday, John and his two rooming-house and crew-mates, Stu Bjorklund and Ray Thompson, a geological engineering major two years out of Montana Mines, went to the Municipal Pool for a swim. By chance, Jane, Flossie, and Frank were there. Jane introduced John to her younger sister and brother. They all swam and visited some more, and parted. Monday morning at work, John asked Joe Bulevant if it would be OK if John sort of muscled in and asked Jane for a date. Joe replied that anything goes with seismographers and , anyway, "If you can get anywhere with her, good luck." That energizezd John and gave Janeís stock a far bigger boost with him than it needed. When he got in from the field that afternoon, he called Jane. A date was made for the movies Wednesday evening, July 23. And so began our courtship--July 23 until John left North Dakota on September 6.
John managed to see Jane almost every evening and week-end. The only exceptions were one evening when she felt unable to break a long-standing date with the Standard Oil salesman who was going to be passing through Bismarck, and two days in August when she had to be in Fargo for the convention of home economics teachers.
Memories--some random, some highlights. Holding hands on the first date. John getting acquainted with Gert and Ed on the second date, telling them about his assistantship and upcoming graduate study at Illinois, plans for a few years of field experience in oil or mining, then a Ph.D. and eventually a career in college teaching. (Given their own experience, the hopes he outlined might well have resonated with the Willsons, just as their life style appealed to John.) --Jane granting Johnís request for permission to kiss her on the third date. Gertrude making chocolate chip cookies for John, and Evey feeding him pie a la mode on the fourth date.
Going to mass and the Willson home for Sunday dinners. A few movies. Much walking and biking to explore Bismarck and drives in the Magnolia Petroleum Company panel truck to explore Mandan and the countryside. A few tries to teach John to golf and ride horseback. Frequent site inspections where Ed and Gert were building a new home at 904 Mandan Street--talking about the view, the lot, the house layout, our own preferences and dreams.
Week-end trip to a dude ranch at Medora, in the Bad Lands with Ed, Gert, and Frank, with a day of riding. John already had saddle burns from riding at Bismarck, and now he got terrible saddle burns on his saddle burns. But he managed to conceal his pain through an evening of dancing to a juke box with just two records played over and over --Bing Crosbyís "Be Honest with Me" and Bob Willsí "San Antonio Rose".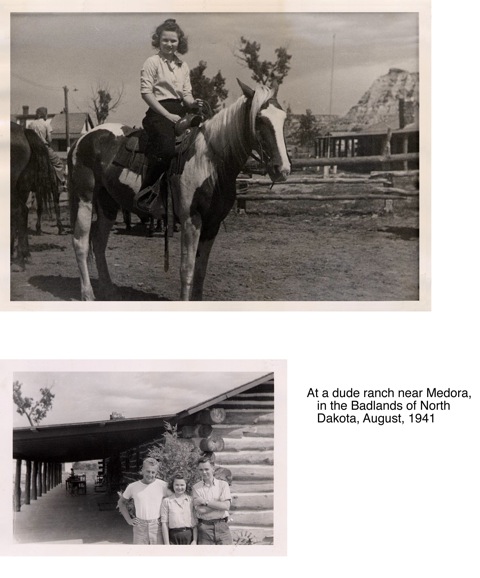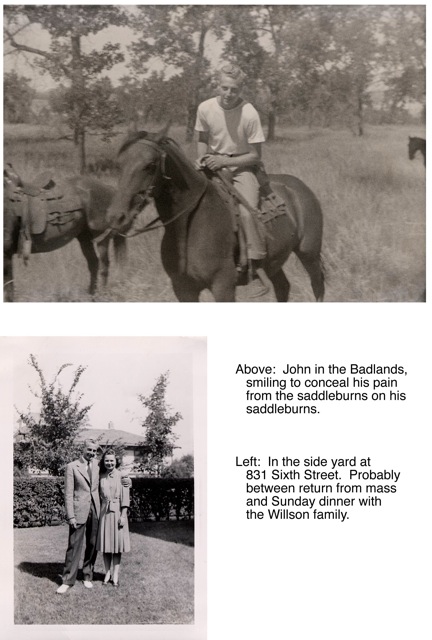 Attempts to teach John to play bridge. One occasion was a dinner and evening at the apartment of crew-mate George Loper and his wife. He was a math major some years out of Washburn University at Wichita, Kansas. John didnít learn much bridge but did learn something when Jane, re-hashing the play of one hand, referred to what John had done but momentarily forgot his name--finally referred to him as "Whatís-his-name". But they had only known each other for two weeks!
To the second Border Petroleum Club dance in mid-August.
Jane and John had been quickly accepted as a couple and included in the circle of more "senior" members of the party, and their wives. The August dance was at Moffit, a grain-elevator hamlet on the Soo Line southeast of Bismarck. We rode out with two of the senior members of the party and their wives--Jim Wilson and George Loper. Some vivid memories. The car was crowded, so Jane had to sit on Johnís lap. Janeís cute red and white polkadot dress. The bare-studdings and frame country dance hall. The music of Arnold Christianson and his Serenaders.
The hall stood beside Long Lake--a relatively large one of the thousands of alkaline lakes and ponds on the glacial moraines of east-central North Dakota. The lake and surrounding marshes had become a national waterfowl refuge in the New Deal days. We spent a lot of time outside, on the pier in the lake, in the light of the long summer evening, watching and talking about the flocks of migratory birds. (Editorís Note: We didnít know the dance hall was one of 332 Edwin had mapped in his 1928 study, "Social Organizations and Agencies in North Dakota". But we could have assured him that he would was not referring to us when he wrote, in his discussion of public dance halls, "Young people must have recreation and entertainment . . . .the automobile and roads have made it possible for them to seek pleasure where it may be less wholesome.")
We got to know each other very well, as we shared observations and experiences, and compared our personal backgrounds, hopes, and ideals in all sorts of contexts--in town, in the country, with the Willson family, in the homes of my fellow seismographers and Janeís Bismarck friends, in the dusty, hot winds and under the clear night skies of the plains. By the end of the summer we were very good friends, with a lot of true affection and respect for each other.
The Uncertain Winter of Ď41-í42
On September 5th John said goodbye to his oil friends in Bismarck, took the overnight bus to Jamestown, and changed for Carrington. Jane had arrived two days earlier for preliminary teacher meetings. We had breakfast together and headed for the high school. It was Saturday, and we spent most of the day working together on the preparation of Janeís home ec room for the beginning of classes on Monday. Jane fixed lunch in the room, and John got a good feel for where Jane worked and what she did. It helped a lot to bridge the thousand-mile gap that would separate us for much of the coming school year. At the end of the day, we had dinner at the Chocolate Shop, drove to the depot in Mayo Meadowsí car, and put John on the Soo Line night train to St. Paul. But we knew this affair would continue, and weíd see each other over the Christmas holidays.
We kept in touch with letters almost every day while John was in graduate school at Illinois. He kept Jane posted with news of his classes and field work and professors and fellow students and teaching, embellished by sketches of some of the characters and gentle but detailed corrections of the English composition in Janeís letters.
A little after mid-semester the world changed suddenly and drastically with the bombing of Pearl Harbor and Americaís entry into World War II. High school work at Carrington and course work at Illinois continued as though nothing had happened. But a cloud of uncertainty now hung over everyone. How long before Johnís deferment would be cancelled by his draft board? What would happen when heís drafted into military service? Whatís the future of his education and professional goals? Whatís the future of virtually everything? How long will the war last? And how will it end?
The Christmas break came quickly, and Jane left Bismarck on Christmas noon for the long overnight trip to Chicago and Crown Point. A few busy days getting to know Johnís parents and 15-year-old brother, meeting the relatives in town and on the farms, a drive to Chicago for dinner and dancing to Grif Williamsí orchestra at the famous old Empire Room of the Palmer House, a day of hiking snowy trails at the Johnís beloved Dunes State Park. Fifteen-year-old brother, Bill, was along and thought Jane was an "ace babe". No more time was left, for John had to repair to Methodist Hospital in Gary for vericosele surgery. That was to repair a rather benign injury from junior-high baseball days, but it had to be fixed, by order of an army doctor. A year earlier John had applied for the Air Force aviation cadet program in meteorology at MIT; and just before the Holidays received orders to report to Chanute Field, Illinois, for a physical exam. The MD examiner would not approve John for appointment unless he got the injury repaired. Now Jane spent the day, after the early-mornng operation, with John at the hospital but had to leave him still in a lot of pain, and head for Chicago to catch the North Coast Limited.
As we parted there at the hospital, we still knew this affair would continue. John would try to get to North Dakota at the semester or spring break. But there was a new element of uncertainty.
Our correspondence continued through January. John wrote that it was tough to concentrate on graduate study while the male student body avalanched into the military and the whole country was mobilizing in emergency activity. Then he reported that Mr. Sam Farmer had written to tell him about an opportunity that had arisen in the U.S. Geological Survey. Farmer had been Johnís field supervisor and mentor when he worked for the Survey in the summer of 1940. Now the Survey needed extra topographers for emergency mapping of coastal areas. John had decided to go to work down there in southern Alabama. He had resigned his assistantship effective at the end of the semester.
When final exams were over at Illinois at the end of January, John headed for North Dakota. His trip was memorable, like many a winter journey to the "American Siberia". The temperature was an unusually mild 60 degrees in Chicago the night he left; the next afternoon at Jamestown, North Dakota, it was 91 degrees colder, at 31 below zero. When he arrived at Bismarck on Saturday evening it was 7 above and snowing as Jane and John drove to the Willson familyís new house on Mandan Street. Ed showed John his "room" in the unfinished basement and thoughtfully opened the window to let in the necessary fresh, snowy, 7-degree air. John closed the window and went upstairs to visit with the family.
Next morning the sun illuminated the spectacular, snow-covered prairie landscape rolling away far to the southwest from the Mandan Street hill--ten miles across the wide Missouri and shadowy breaks in the bluffs, the rising slope country beyond, and Heart Butte on the horizon about a hundred miles away. Leisurely breakfast, church, and dinner with the family, Then in mid-afternoon we left for Carrington in the back seat of "Pop" and Mrs. Rogersí car. Mr. Rogers was superintendent of schools at Carrington--Janeís boss, and they were driving back after a week-end in Bismarck. It turned out that Rogers was a native Hoosier. Though they were a generation apart, he and John knew each othersí home towns and colleges. It was a pleasant trip.
When we arrived, John was assigned to Janeís room at the home of her landlady, Mrs. Hargrave, the wife of the Ford dealer in Carrington. Jane moved in with her fellow teacher, Agnes Waage. Jane showed John the room and showed him how to open the window to get fresh, below-zero air at night. Like father, like daughter! John appreciatively said heíd probably leave the window closed.
The week passed quickly. John taught ag teacher Kenny Ericksonís class and told them about North Dakota geology and soils and petroleum occurrence and exploration. He head-waited the annual Foster county Farmerís Union banquet for Jane and her class of home ec students-turned-waitresses and cooks. This was a roast beef dinner and went very smoothly. Jane told the story of the Farmerís Union banquet the previous year. They wanted a turkey dinner, and they said theyíd furnish the turkeys. On the appointed day., they brought the birds, deposited them alive, roaming outside the classroom window. She quickly found that some of the farm girls in her class knew all about butchering turkeys. She organized them and put them to work, and all went well. (Editorís note: During this week, John saw clearly a side of Jane he hadnít seen before--she was creative, a hard worker, and a real servant of the community. She gave the kids personal attention and stirred their interest in clothing and nutrition and the practical management of a household. People liked her and respected her. John felt honored when kids whispered to each other as he passed, "Thatís Miss Willsonís boy friend.")
Other days passed helping Jane at school, one evening ice-skating with Janeís four congenial teacher/rooming-house-mates, a movie, a dance with lots of unmanageable polka and shottish at a hall in the neighboring county seat of New Rockford, a late small gathering in Mayo Meadowsí secret basement bar. Sunday church and dinner, and finally to the GN depot at New Rockford, where the agent flagged the Empire Builder for John to board for Chicago. The parting this time was a little different from those in September and December. Those times we knew when weíd be seeing each other again. This time, the future was up in the air. There were no plans, just plenty of faith.
In the next month correspondence continued on the new Alabama-North Dakota track. John wrote to Jane about the strange environment of the rural Deep South, and mapping the coastal zone where the nation feared possible German landings from U-boats. (See Johnís notes, "The USGS Years", in another volume.) Jane kept him abreast of happenings in Carrington, including the visiting FBI agent who was shadowing a Japanese-American farm family who were feared suspects because they had a radio.
Then one day John wrote a terribly gloomy letter to report that he had been re-classified by the Crown Point draft board and ordered to report for induction. But the next day another letter came, elated to tell her that he had heard from the Air Force ordering him to report to MIT for the meteorology course beginning in March. He would have a salary of $144 a month as a cadet, then a future as a commissioned officer. He would be settled in Boston until November. He didnít have the sense to come right out and say it, but now it was obvious we could plan to marry when Jane finished the school year in June.
The correspondence continued on the new path between Boston and Carrington. John finally marshalled the courage to ask Jane directly to marry him. First , he wrote to Edwin to ask for his daughterís hand. Edwin wrote back kindly with appreciation and approval. Then John wrote the crucial letter to Jane, and we learned later that it was on a Northwest Airlines plane that fell into Flushing Bay on takeoff from LaGuardia Field in New York. The water-soaked, nearly illegible letter eventually was returned o the sender in Cambridge, Massachusetts. So John never really did propose. But we were not to be denied. Somehow Jane got the idea, and she and Gertrude moved ahead with preparations.
When Jane came home from Carrington there were a couple of showers, much well-wishing, and appropriate notices in the Bismarck Tribune, the Mandan Pioneer, and the Lake County Star in Crown Point. Meanwhile, John was meeting one evening a week for his "instructions" with Father Green, in the fatherís quarters at the rectory of St. Paulís catholic church off Harvard Yard, where weíd be married.
Unlike his "predecessor", John Carlyle, this John had no problem with the churchís required paperwork To supplement the material furnished by Father Green, he did quite a bit of independent reading about the churchís history in the MIT library. The "instruction" discussions were interesting and stimulating. To be sure, there was considerable anti-catholic prejudice in his family background. Although Johnís dad, Ernest Borchert, talked as an agnostic, anti-papist, he was a person of high moral standards and integrity. At the annual family reunion, there was a visible divide between the separate picnic tables for the catholic and protestant (mostly German Lutheran) members of the clan. But John could never understand why the relatives did this. Despite the separate tables, the kids played ball and drank pop and ate ice cream together. Whatís more, he always thought that, on the average, the catholic boys were better ball players than the protestants, and the catholic girls were nicer and prettier. But the main thing was his affection and faith in Jane.
Once more Jane left Bismarck, June 5th on the North Coast Limited. A stop for a couple of days in Crown Point to get the blessings of the Borchert family. Then off the Pullman at South Station, Boston, on June 9, and up the platform to greet John, in his slightly rumpled Cadet uniform. They embraced, but not for long. The wedding was scheduled for the next morning, and there was much to be done.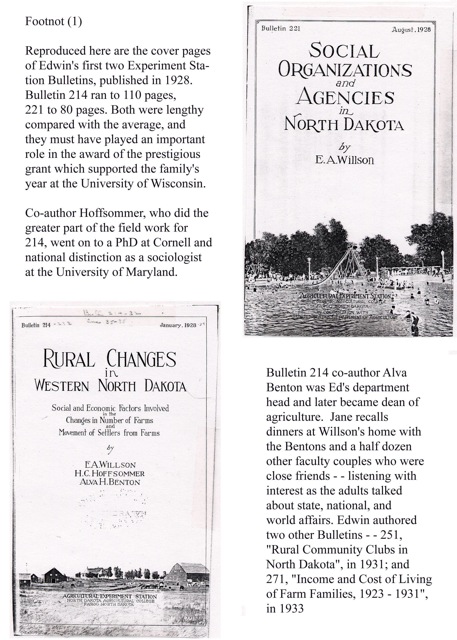 Footnote (1)
Reproduced here are the cover pages of Edwinís first two Experiment Station Bulletins, published in 1928. Bulletin 214 ran to 110 pages, 221 to 80 pages. Both were lengthy compared with the average, and they must have played an important role in the award of the prestigious grant which supported the familyís year at the University of Wisconsin.
Co-author Hoffsommer, who did the greater part of the field work for 214, went on to a PhD at Cornell and national distinction as a sociologist at the University of Maryland.
Bulletin 214 co-author Alva Benton was Edís department head and later became dean of agriculture. Jane recalls dinners at Willsonís home with the Bentons and a half dozen other faculty couples who were close friends--listening with interest as the adults talked about state, national, and world affairs. Edwin authored two other Bulletins--251, Rural Community Clubs in North Dakota", in 1931; and 271, "Income and Cost of Living of Farm Families, 1923-1931", in 1933.